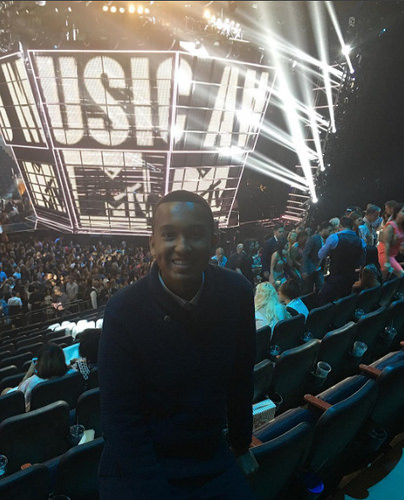 Brandon Slayed at the VMAs
Before he attended the MTV Video Music Awards, Brandon was developing his leadership skills at the Boys & Girls Club.
Brandon recalled his first day at the Boys & Girls Club. His parents recently divorced and he and his siblings needed a place to go after school. Their mother visited different after-school care facilities and stumbled upon the local Boys & Girls Club. Brandon and his siblings immediately felt at home, but his mother was discouraged when she saw the price. The unit director took notice of the children and spoke to the mom about offering a scholarship so that her kids could stay there.
The Boys & Girls Club created a great foundation for Brandon. He developed his leadership skills and even became exceptionally well at Ping-Pong! Brandon had such an amazing experience that he decided to work there when he became old enough. He spends his work days with the younger attendees—ages six to eight-years-old where he acts as a role model and a mentor.
Brandon stays busy during the school days by being a part of the JROTC Color Guards and with a full schedule of International Baccalaureate® (IB) courses. It is now his junior year in high school and his favorite classes are coding and programming and his IB film course. He has dreams of attending Pennsylvania State University where he will study computer programming along with being involved with theater and acting.
At school, Brandon serves as a Junior Leader and Co-Vice President of Junior State of America. He is also the President of the Keystone Club at the Boys & Girls Club. He likes that his school teaches discipline and leadership which have helped him succeed in the classroom and beyond.
"Leadership is my passion…"
"Leadership is my passion. I desire to make our schools and communities brighter by fighting apathy and targeting the issues at hand that are restraining us from further success. In addition, I implement my talent by getting involved in school clubs like student government and Junior State of America. In my community I'm involved with my local Boys & Girls Club where I'm able to make a greater impact on our youth, alongside being president of the Keystone leadership club. Change is one step away."
Due to his passion and dedication to leadership, Brandon won the 2016 Get Schooled Vanguard award which included a trip to the MTV VMAs! The Get Schooled Vanguard award is awarded to a student who uses their passions creatively to create change in their community. The top 25 students were put in a voting poll where they had to get their family, friends, and community to vote for them. Brandon quickly rose to the top!
He had an amazing time at the VMAs— from shopping for the perfect fit to staying in a nice hotel to seeing some of his favorite artists live. Brandon's favorite parts were watching Beyoncé perform Lemonade live and Rihanna's four performances. Brandon said it was overall an amazing experience and he will treasure the memories for the rest of his life!
Watch Brandon's trip to the MTV VMAs here.
Article reposted from GetSchooled.com