The members of the Keystone Club of the Boys and Girls Club of the Peninsula wanted to make a difference in their community. They didn't have to look far to figure out how to make that happen.
Surrounded by fast food restaurants and liquor stores, the members of the BGCA Keystone Club in eastern Menlo Park realized that there were few neighborhood grocery stores and no large grocery store chains in their area that offered a good selection of healthy food at an affordable cost.
Their diligence and research led the club members to discover they were living in a "food desert", an area where the residents of the community have limited access to healthy, nutritious food. They also learned that the limited access was taking years off their life expectancies and those of their neighbors. Just three miles away in Palo Alto, where there were several chain grocery stores, the residents lived an average of thirteen years longer.
The club went to work and organized their research into a presentation, including not just the facts, but slides of bruised, rotting and overpriced food that was the best that could be found near their homes to demonstrate to the council members that the eastern part of their city was a Menlo Park Food Desert. Seven of the teens took their concerns before the Menlo Park City Council to petition the addition of a quality grocery store in their neighborhood.
"We are using our power to raise awareness," said one of the Keystone members. They succeeded. The mayor presented the teens with a Certificate of Recognition for Outstanding Service to the Community and the City Council now has a 20-year plan that includes the addition of a Safeway store. The comment of one young Keystone Club member summed up feeling behind all the hard work and research, "It's important to me because everyone in my community benefits from this project. This is for family, friends and future generations to come. By doing these things we are saving everyone – whether it be mentally, emotionally or physically,"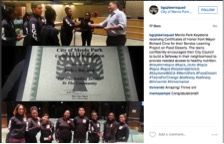 Photo Courtesy of the American Nutrition Association