By: Laura Boycourt
From February 12 through 21, more than 1000 teens from across the world will gather in and near Lillehammer, Norway to compete in the fourth winter Youth Olympic Games. These talented 15- to 18-year-olds will put on a show in some of the sports that you know and love from the adult version winter Olympic Games. Learn more below and be sure to mark your calendar for February to catch some cool kids going for the gold.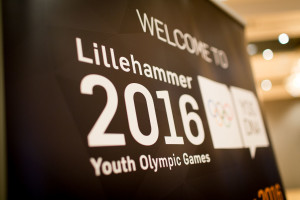 Photo by Lars Martin Bøe, JH Studios, courtesy of Lillehammer 2016 Winter Youth Olympic Games".
Whether you like to watch the grace and skill of figure skaters or snowboarders shredding it up on the mountain, the Youth Olympic Games offers competitors and viewers worldwide 15 awesome winter sports: Alpine Skiing, Biathlon, Bobsleigh, Cross-Country Skiing, Curling, Figure Skating, Freestyle Skiing, Ice Hockey, Luge, Nordic Combined, Short Track Speed Skating, Skeleton, Ski Jumping, Snowboard, and Speed Skating. Within these sports, 70 medal events will take place…that's a lot of gold, silver, and bronze to be awarded!
In case you need to brush up, here's a quick rundown of some of the lesser-known winter Olympic sports.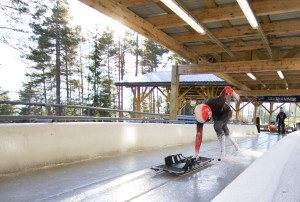 Photo by Michael Eriksson. courtesy of Lillehammer 2016 Winter Youth Olympic Games".
Skeleton: It's like the luge, but instead of the athlete being on his or her back going feet first, the rider lies on his or her stomach, head first, and basically goes really, really fast around an icy track.
Nordic Combined: A combination (surprise, surprise!) of ski jumps on a hill and a cross-country race.
Biathlon: This sport's events include skiing and target shooting. Some events are based on individual performance, and others are relay.
Curling: This sport has NOTHING to do with hair! Instead, it requires sliding heavy stones on ice toward targets, and knocking competitor's stones away from the targets. It might sound strange, but it requires a lot of strategy and precision.
In addition to all the competition on the ice and in the snow, teen athletes will take part in workshops while in Lillehammer. These workshops will help athletes understand and appreciate the Olympic spirit and ideals as well as how to lead healthy social and physical lifestyles. Also, because these teen Olympians will come to compete from all around the world (70 nations, to be exact), they'll get to learn about each other's lives and cultures. What's more, Youth Olympic Game visitors and spectators will have the chance to check out the big Opening Ceremony and Sjoggfest, which will offer a ton of cultural events during the games.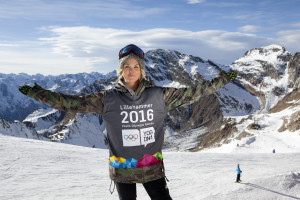 Photo by Rene Verzetnitsch, courtesy of Lillehammer 2016 Winter Youth Olympic Games".
To learn more about the Winter Youth Olympic Games, visit www.lillehammer2016.com/en/. The web site has information about each of the sports, schedules, the cultural festival, and more. If you want to check out the games on social media, visit www.facebook.com/Lillehammer2016 and www.instagram.com/lillehammer2016/.