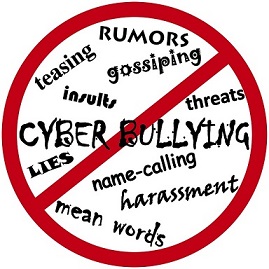 By Maureena, 2015 Sprint Cyber Safe Futures Ambassador (Boys & Girls Clubs of Truckee Meadows, NV)
What is Cyberbullying? Maureena's View
Hello, my name is Maureena. I am a Cyber Safe Futures (CSF) Ambassador for the Boys & Girls Club of America. I have experience through the Boys & Girls Club teaching members about online safety through online activities such as discussing videos and playing games on NS Teens and NetzSmartz Kids websites.
Cyberbullying happens through electronic devices when someone hurts or harasses another individual. A lot of our younger members experience cyberbullying or have participated in cyberbullying in the games they play online with others. When cyberbullying happens online to someone, it generally damages self-esteem and can be more hurtful than bullying at school or at a playground. Cyberbullying is harmful and dangerous because it can result in extreme events such as suicide, or causes violent acts among teens. We can definitely help teens by making them aware of the issue. By sharing personal stories of people who have dealt with cyberbullying with successful outcomes we can equip others to see how do deal with the problem for themselves.
Also, I want to inform teens that it is ok to ask for help and show them why cyberbullying is bad for our communities. It's important that all teens realize that cyberbullying is a crime and if caught by parents, school or police, they will be punished. Teenagers can get suspended from school and even have their future life goals affected by the choices they make online today. These consequences of cyberbullying are very real. I will do my part as a Cyber Safety Ambassador to educate teens on the dangers of cyberbullying and how not to be a part of the problem, but a part of the solution.