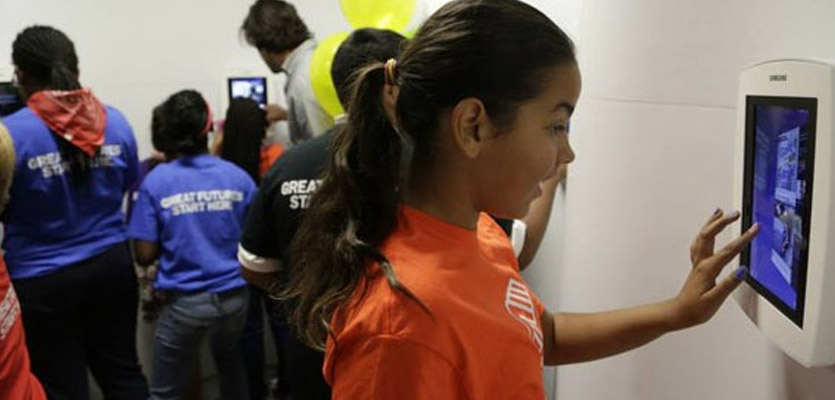 Tween Tech Center: Milwaukee
Club members embrace appealing new STEM space designed by Carter Oosterhouse
When the Tween Tech Center recently opened at the Don & Sallie Davis Club — Boys & Girls Clubs of Greater Milwaukee, members were amazed by the transformation of their old exercise room. The space, which once housed fitness equipment, is now a state-of-the-art classroom designed by celebrity craftsman Carter Oosterhouse ("Trading Spaces," "Rowhouse Showdown"). The Tween Tech Center is funded by Samsung.
In addition to a whole new look, the classroom now includes the latest mobile devices so that members can focus on STEM (science, technology, engineering and math). Equipment includes 20 Samsung Note 10.1 tablets, eight laptops and a large screen TV display. The tablets and laptops feature STEM curriculum and e-books that will encourage Club members to work together to invent engineering-based solutions for issues in their community.
During the grand opening of the Tween Tech Center, mcmlpreview.wpengine.com caught up with Oosterhouse. Check out the video below to see what the designer had to say about this awesome new space.
[foogallery id="252″]