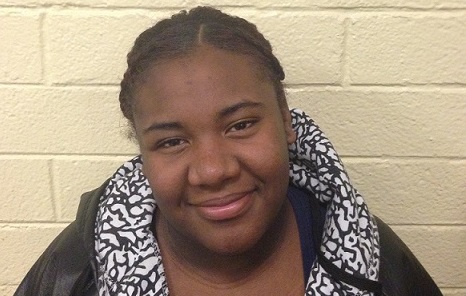 Serrina, from the Denver Bronco's Boys & Girls Club, shows us that hard work, supportive Club staff, and tips learned from the CareerLaunch program, can help you become someone who helps others.  Read more about Serrina's experiences and get some ideas about how you can make a positive impact on others as well.
Serrina's Launch to Leadership…
My name is Serrina.  I am a part-time junior staff at the Broncos Boys & Girls Club of Metro Denver and a part time worker at Journeys. I have been a part of the Denver Broncos Boys and Girls Club for about 10 years. I have been a part of Keystone Club and a junior staff for 4 years. Keystone is a leadership club where young adults ages 14-18 have the ability to show who they are in many different ways and to give back to their community by showing others that they care about things other than themselves. I've enjoyed many activities we have done and am looking forward to many more as well as "Family Night" events. Through Keystone I have participated in many different activities such as "The Race Against Violence". This is an event where we come together as a community meet at the Broncos Boys and Girls Club and we walk a 5k to prevent the violence in the our community. One of our big Family Night events is the "Black History" Dinner. It is hosted by the Keystone club. Members of the Boys & Girls Club invite their parents and families to eat with them and watch the performances prepared by the Keystoners. Participating in these activities has allowed me to qualify to attend my very first National Keystone Conference.
The Pathways/CareerLaunch experiences have also allowed me to obtain a paid position as a Junior Staff at the Broncos Boys & Girls Club. I've been working here since I was 14 years old and it has given me the opportunity to take my future seriously and provided me with great work experience. I work with the youth, which helped me grow, and become a better person in life. Rich Barrows, the director of the Denver Broncos Boys & Girls Club has helped and pushed me to get far and help me be successful in my life as I become a young independent woman. My responsibilities as a Junior Staff included working with kids with homework, playing games with them and cleaning after dinner has been served.
My experiences with the Pathways/CareerLaunch program have also helped me obtain outside employment. I was able to secure a position as a Crew Member at Little Caesar's Pizza. My responsibilities as a crew member is to make sure my other peers aren't struggling at their stations and closing and cleaning at the end of the night. I have grown into a strong independent young woman, working two jobs and going to school full time. I have learned to manage these responsibility by taking opportunities at the Denver Broncos Boys & Girls Club.
Being a part of the career programs at the club have also helped me out immensely. The portfolio class has helped me develop a portfolio for jobs and build a resume. I have also learned how to prepare for job interviews and apply for them. Being a Junior Staff at the Boys & Girls club, I had opportunities such as CPR training and disaster training through the Teen CERT program, and having the opportunity to teach cheerleading. Being able to participate in the Teen CERT Disaster training has taught me a lot of valuable skills such as learning how to survive disasters, how to save people and how to prepare for the worst. Coaching cheerleading helped me develop relationships with different personalities and different ages of young girls, and how to lead.