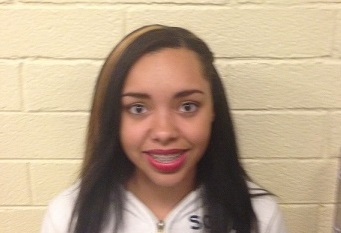 Jennifer has learned quite a bit in the Denver Broncos Boys & Girls Club, especially during the CareerLaunch program.  Hear more about Jennifer's experiences and how they created opportunities to go to the National Keystone Conference and excel in her Club's Youth of the Year program.
Jennifer's Pathway to Opportunities…
As a Keystoner, I have grown a lot over the past few years. I've showed my leadership in my community, school, and work by always being committed and never falling behind. I started doing my community service and leadership programs my freshman year of high school I then committed to my responsibilities at attending Keystone meetings every Tuesday and attending family nights.  I help out during family nights that the Keystone Club organizes and participate in many community service projects. I also was offered a paid peer- leader position at the club to help with a called Smart Moves. Smart Moves was a motivating healthy program for kids to learn how to keep a healthy diet and make healthy decisions.
I loved being with the kids and motivating them to make smart decisions at a young age to carry on as they get older. Some kids still remember the things they learned in Smart Moves and how it can change lives. The community in the club is very warm and open. Every day I can feel how the club brings new memories in my life with kids. I loved teaching Smart Moves with the kids at the club. I then got moved up to becoming a Junior Staff for the Boys and Girls Club. I help kids daily in improving their homework, helping with kitchen work, and cleaning up the club. I spend time serving kids from all ages and I also clean up after. As a leader from the club, I still continued to participate in Keystone and other programs.
Because of the Pathways/CareerLaunch program I also had the opportunity to participate in the National Keystone conference in Orlando, Florida on May 15-18, 2015. I was really excited to attend my third Keystone Conference out of state. This year was a new experience and new faces to meet. I got to play many games, make great memories with friends, and learn new things. I'm glad I got to go with my friends from the club who I see as a family. The best thing about going to the Keystone Conference was realizing there are hundreds of other teens who also want to change their communities and bring light to it. I then came back to the Club to bring new ideas in to the Club.
Pathways/CareerLaunch prepared me for interviews for my future. I won Youth of The Year for the Club for 2015. I could have never done it without the help of the Club and my Keystone members. I worked for a whole moth straight on my Youth of the Year essays. I then got two mock interviews and then one final interview. I had to go against other teens at the club who also participated in it making it a challenge. The moment they announced the winners the next day I was proud of all my hard work and dedication. This was a great moment for me because I put all my hard work to pay off. Having to go through the next stage was difficult because I didn't know what to expect or do. I then began to just write my speech and memorize it. I got help from a few staff members at the Club and they approved it. I didn't win the next stage but I still got recognized for my hard work.  That's how Pathways/CareerLaunch has helped me with opportunities for jobs and school.