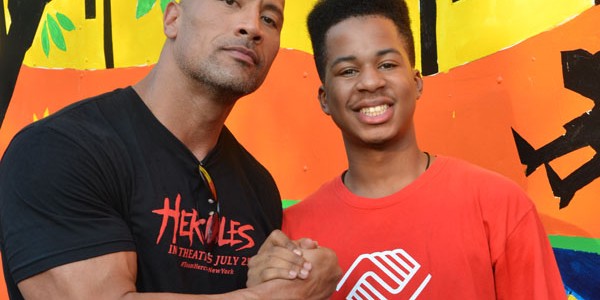 The actor and Club alum visited the Harlem BGC to talk inspiration and his new movie in this Dwayne Johnson Interview!
You may not know it, but before superstar actor Dwayne Johnson ever graced the big screen or pummeled foes as legendary wrestler "The Rock," he was a Club teen who was trying to find his way in life!
The action movie hero may be anticipating his summer blockbuster "Hercules," opening July 25, but before the movie hit theaters, he dropped by the Boys & Girls Club of Harlem for a surprise visit. That appearance got even bigger and more special when Johnson treated more than 100 Club members to a free preview screening of "Hercules," plus other giveaways!
"The Rock" may have been moved to give back to the Club members because he was once in their shoes. He talked of a youth spent getting into petty troubles before he discovered the Club and turned his life around to become a superstar in the wrestling ring and later on the big screen.
Watch his awesome interview with myclubmylife.com Teen Reporter Joshua L., as Johnson discussed his new movie, gave advice to teens and talked about how the Club inspired him. Johnson — "The Rock" — delivers the goods and inspiration exclusively to myclubmylife.com!