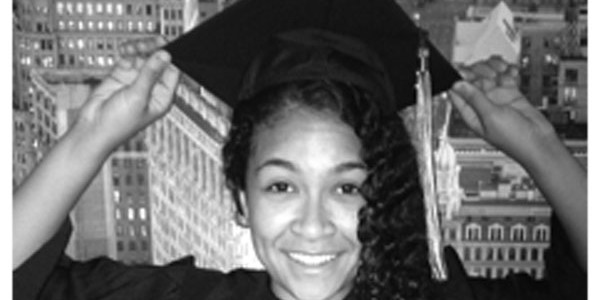 Alumni Stories- DJ Kelsey has a bright future ahead!
We caught up with Keystoner Alumna and former Teen Reporter Kristelle "DJ Kelsey" LaRoche, who was the DJ at all the sessions and dances at the National Keystone Conference in Anaheim, California. Also known as Kelsey the Dream, she is much more than just a DJ, however. She recently graduated from college and is working on film projects. We asked her about her busy life and for advice on how to get started in a career similar to hers.)
BGC: First of all, we want to know about your DJ gig since you blew the roof off the place at the Anaheim Keystone Conference! And there aren't many top female DJs. What got you started? And how was it returning to Keystone to spin after formerly attending as a Keystoner?
DJ Kelsey: Well, four years ago when I was seventeen, I was a Keystoner hosting a teen dance at our Club in Laguna Beach. We hired a group of teens from the Fullerton BGC to DJ the dance, since they had a DJ program at their club. I had always been interested in DJing, so I asked their advisor, Leo, if he would teach me a thing or two, and he did! During my senior year of high school, I would drive from Laguna Niguel to Fullerton's Club (that's almost a 50-minute drive!) twice a week to attend Leo's tutorial class, where I learned the basics, and much more. It's true, there aren't many big-time female DJs, but I didn't let that stop me from learning.
BGC: We hear you're involved in a big-time film project as well. Tell us about your role(s) and what do you think of your future in the world?
DJ Kelsey: I just graduated from college with a bachelor's degree in documentary filmmaking and I've been able to direct a couple of films! Last year, I traveled to Uganda on scholarship to make a film about a group of indigenous hunter-gatherers that were evicted from their rainforest homes more than 20 years ago.
My most recent documentary is about little girls that skateboard and it's called "The Pink Helmet Posse." That film got into a bunch of festivals that we're really excited about! It's been a lot of fun being able to travel and make films about important topics, like getting more girls involved in sports.
So, a college grad now! What was your major and how do juggle so many things at a high level?
My major is technically "television and broadcast journalism with an emphasis in documentary filmmaking and a minor in Integrated Educational Studies." I know, it's a mouthful! Basically, I make documentaries for my major, and my minor consists of classes that will be useful if I decide to become a teacher since I love working with kids!
Being a full-time student isn't easy, but it's well worth it. My biggest tip is to take things one step at a time, especially because it can get overwhelming with everything that's going on at once. There was one point when I was working a part-time job, hosting a radio show, DJing and being a full-time student! Make smart financial decisions, get plenty of sleep, and stay healthy!
BGC: And we can't forget this – you were one of first myclubmylife.com Teen Reporters, interviewing J.Cole and others! Tell us about that experience and if you want, talk about the nickname "Conference Kelsey" that you earned?
DJ Kelsey: Haha! If I could relive every Keystone Conference (and that's seven since 2008!), I would. They are still my greatest memories. Kelvin nicknamed me "Conference Kelsey" since I was always getting involved with myclubmylife reporters and coming to so many conferences! I have a ton of pictures on my computer from my conference days, and I open them up every time I want to bring back good memories. Interviewing guests like J. Cole really helped me with my interpersonal skills, and taught me to be more outgoing and confident. I'd say I was a pretty shy girl before Kelvin and MCML put me in the limelight!
*From MCML- Shout-Out to Kelvin, for sharing Kelsey's talent with the Keystone group!
BGC: And lastly, with so much going on and lots of opportunities, where do you see doing in five to 10 years from now?
DJ Kelsey: That's the question of the semester! Well, I see myself doing a multitude of things, thanks to all the support from my Club, my family and the skills I've gained at my university. Whether it's DJing, making films or working at a Club, I do know one thing: I'll be happy! And hopefully coming back to more Keystone Conferences!
The My Club My Life crew is so proud of you, DJ Kelsey! Keep it up!