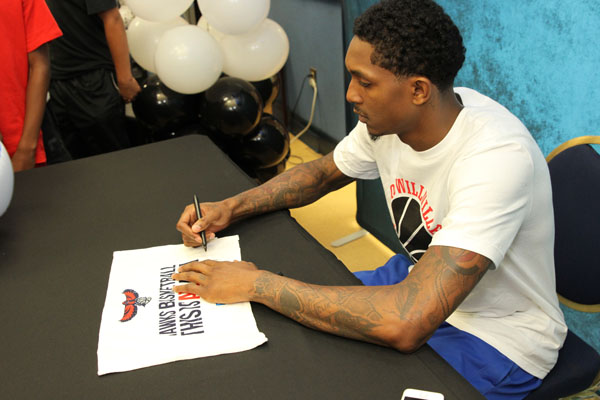 Graduate for Más: Atlanta
At this graduation celebration, teens met Hawks player Lou Williams, who spoke about the importance of education.
Rachael Mason
 In June, the Boys & Girls Clubs of Metro Atlanta hosted an event in honor of the thousands of high school graduates. As recent graduates were congratulated, current students were encouraged to sign the Graduate for Más Promise – making an official commitment to graduating from high school. The celebration was presented by BGCs of Metro Atlanta and the Taco Bell Foundation for Teens. Radio host Adam Bomb of Q100 served as the master of ceremonies for the afternoon event, which was held at the Lawrenceville BGC in Gwinnett County. He got the crowd excited for the event's special guest — Hawks basketball star Lou Williams, a former student at South Gwinnett High School. Williams spoke to Club members about the importance of a solid education.
Attendees also heard from Aria C., last year's Youth of the Year from the Lawrenceville Club. She talked about how essential a high school diploma is in today's world and about what she's done since her own high school graduation. Aria also encouraged Club teens to take the Graduate for Más Promise.
In addition to the online promise, teens could sign a homemade banner representing Graduate for Másand the Taco Bell Foundation for Teens. They also decorated T-shirts, filling in their expected graduation year in the phrase "Class of …"
During the event, Williams drew the winning raffle tickets for prizes like a signed Hawks jersey and basketball. He also took the time to sign autographs for attendees — and even played basketball with the teens in the Club gym.