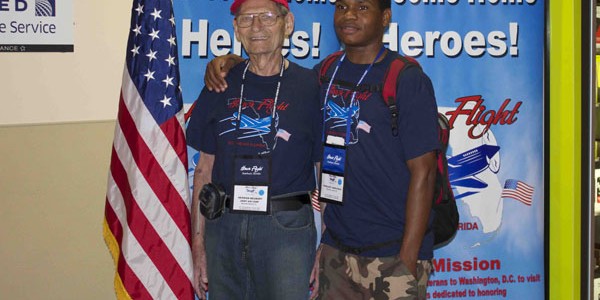 Florida Club teen accompanies World War II veterans on tour of memorials in Washington, D.C.
By Truelove J., Boys & Girls Clubs of St. Lucie County, Chuck Hill Unit
Editor's note: Truelove J. of the Boys & Girls Clubs of St. Lucie County, Chuck Hill Unit (CHU's Youth of the Year) was selected to join a recent Southeast Florida Honor Flight as a guardian. Honor Flight takes United States military veterans to Washington, D.C. by plane to see the memorials honoring the wars they fought in. For more about Honor Flight Southeast Florida, visit www.honorflightsefl.org
At some point during the process of guardian training for the Honor Flight, someone said it would be a life-changing experience. They were RIGHT. Having the opportunity to honor the veterans, to interact and hear their stories and to be involved in their experience in Washington D.C was beyond life-changing.
With all my gratitude, I would like to thank Dr. Sing and the Boys & Girls Clubs of St. Lucie County for giving me the opportunity to have this experience. Spending the day with my 94-year old World War II veteran, and now friend, Mr. Herman Neubart, was something neither of us will ever forget. Talking to him was an honor.
It was also like talking to my future self. He is a very independent and headstrong individual. Mr. Neubart appreciated being honored, but could not allow himself to feel helpless. Even on long walks in the heat of Washington D.C., he would not use a wheelchair. The stories he shared with me, along with his strong and independent demeanor, were a constant reminder that no matter what happens in life, as long as I am determined to succeed, I WILL.
The monuments in D.C. were breathtaking. The design concepts, the thought behind them, their size and sacred feel was unforgettable. As the plane was landing, there was a view of the monuments and memorials. It was a great opportunity to see how much they coincide with each other.
Each stop on our monument tour was different, but just as amazing. From the National World War II Memorial and the Vietnam Veterans Memorial to the Lincoln Memorial and on to the Korean War Veterans War Memorial, they seemed to fit perfectly together like pieces of a puzzle.
The World War II Memorial impacted me the most. The chance to visit a memorial and personally pay your respects to the honorees was a once-in-a-lifetime occasion. It was such an honor to see all the brave men, survivors, uncles, fathers, brothers, grandfathers and to stand by their sides and assist them.
I have a newfound respect for the elderly. Though their bodies may have aged, their hearts are still filled with life. Most of my energy came from their humor, joy and gratitude.
This experience has instilled in a new belief in me. Even though you may feel as though you are in the midst of the most challenging moment of your existence, do not get caught up in the moment because you still have the chance to live.