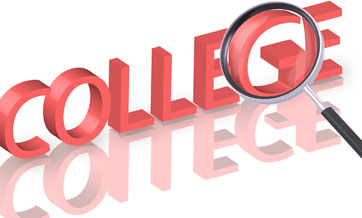 How do you know which school is right for you? Where do you begin? Right here!
Here are ways to go about searching for colleges or technical schools that are right for you.

There are many choices so be prepared to weigh a lot of factors.

Consider local schools but also make sure you're comfortable with your choice!
Now that you have decided that college or technical school is the right choice for your future, you must decide on the right school!
The choices are unlimited — major universities, private colleges, small liberal arts schools, junior and community colleges, etc. Now — and maybe even before then — is when you need to narrow down your list and consult as many resources (parents and adult figures, the Internet, college guide books, etc.) as you can to help shape your choices.
Follow these steps as you are searching for colleges:
Step 1: Assess yourself
Assess your skills, strengths, talents and interests, personal and career goals. Check out the "Exploring My Interests" information to learn more!
Step 2: Identify what you want in a college or training program 
Consider the following when looking at college or training programs:
Type of program (two-year college, four-year college, career or technical program)

 

Location (in your town, near home or far away)
Size and type of students (number of students and student body)
Costs (costs and opportunities for financial aid)
Campus life (housing, part-time work, athletic programs, other activities)
Download this chart that includes more information about your Options_For_College.
Step 3: Match your qualifications to program requirements
Determine how your skills and achievements match the school's requirements: GPA and class rank, test scores, courses you have taken, special achievements, talents and strengths, school and community involvement.
Step 4: Make a list of schools or programs that interest you
There are many ways to find out more about schools that interest you:
Online matching (College Board's College Matchmaker, Peterson's College Search)
Print and online directories (several directories of postsecondary programs)
Counselors (counselors and information centers in school guidance offices)
College fairs (representatives and recruiters at college fairs)
Current students (students attending the school, plus alumni who have attended)
Step 5: Narrow your choices

Narrow your list to five or six schools or programs that are a good match for you. Ask for help in exploring them from parents, Club staff, teachers or school guidance counselors. College_Comparison_d2D!
Step 6: Request information and schedule visits
Contact the schools' admissions office for information and/or visit their websites. Talk to current students and graduates. If possible, schedule visits to all or most of your potential options; most colleges and universities offer regular tours. Talk to Club staff about arranging a college visit for you and other interested members. Before you go, download and print out copies of our "CollegeVisits_d2D" so that you get the most out of your trip.