By: Maya M., Teen Reporter, Tenth Grade, Keystone Member, Grenville Baker Boys & Girls Club
Teen Reporter Maya M reports an awesome opportunity for MCML teens to join a Kickstarter Tour in Brooklyn.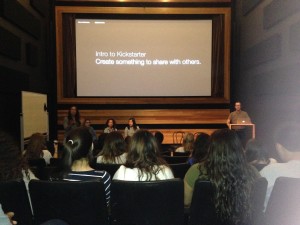 This past Tuesday, twenty teens at the Grenville Baker Boys & Girls Club took a trip to Brooklyn to visit a unique organization called Kickstarter. This company specializes in endorsing people's innovative creations, ideas, and projects. Kickstarter is for anyone with an idea or plan to make something or do something that could be funded by others interested in that idea. These investors are called backers, who pledge money to that specific project. For example, a backer might put their money into funding an outdoor concert and in exchange, receive a ticket to that concert. While touring the company in Brooklyn, the members got to see their contemporary styled offices and work places. The building itself was very modern architecturally and the members enjoyed seeing where the associates of Kickstarter make things happen. There was a rooftop garden, a library space and a lounge where they have their annual Halloween party. Overall, it was a really interesting business and a cool place to work.  Through a Q&A with their team of associates, the members learned that Kickstarter may be the wave of the future and become bigger in the generations to come.